When you're finished changing, you're finished.
We Do Ethical Consultancy is our award winning green thinking business. Through our simple 'Rate, State, Do' three step process we find sustainable business solutions and set goals for companies to achieve our ethical business rating. Our ethical rating is an initiative which will unite consumers with information about standards of ethics in all businesses premises such as restaurants, shops, bars, cafés, schools, hospitals and offices across the country. We audit and rate each business from 1 - 5 through our questionnaire grading matrix, which is built on the framework of the UN's Sustainable Development Goals. There are 17 principles for businesses to adopt in order to become more sustainable and help them to attract more conscious consumers to their products and services.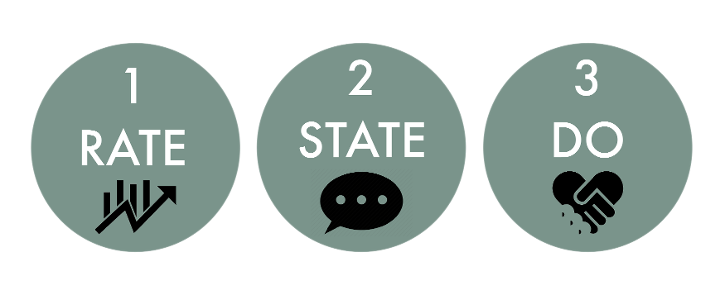 1. RATE
We look at what your business uses and switch you to more eco-friendly and socially responsible alternatives. It's simple to be the change with the everyday running of your businesses and achieve your ethical business rating from 1 - 5.

2. STATE
We provide your bespoke corporate social responsibility statement. This offers transparency for your business, which builds trust and loyalty from customers; though a clear statement of information on all of the great things you're doing to be the change.

3. DO
We are doing lot's of great things too and we really value the support of our growing ethical business community. Subscribe to support our non profit organisations four community projects that care, nurture and unite ethical living and we will thank you in our online community!


Browse our collection with the option to custom print or embroider the most popular sustainable styles on the market for Men, Women, Children & Pets!
T-shirt's . Vests . Hoodies . Sweats . Jumpers . Bags . Bibs . Polos . Pants . Caps . Fleece Flat Peaks .Joggers . Tracksuits . Skirts . Tanks Activewear . Bodysuits . Collared Shirts . Crop Tops . Dance-wear . Dresses . Intimates . Leggings . Long Sleeves . Outerwear . Pants . Shorts . Skirts . Sweatshirts . Swimwear . T-Shirts . Trucker Hat . Beanie . Headband . Tank Tops . Accessories . Pants . Underwear . Thong . Bra . Panty . Boxer . Brief . Hotpant . Leg Warmers . Socks . One-Pieces . Short Sleeves . Scarves & Gloves . Duffle & Gym Bags . Totes . School bags . Backpacks . Hip bags . Pets . Dog T-shirt . Dog Raglan . Fleece Dog Hoodie



- A complimentary apparel order quotation and 30 minute consultation (call/ skype).
- The highest quality fabrics & products with the widest range of independently certified, ethical apparel on the market.
- Fast turnaround times using our economical supply chain, meaning low minimum orders and capacity for huge growth.
- Great customer service and non biased print method advice from our in-house design team of professionals guiding you through our simple order process.
SUBMIT YOUR ORDER QUOTE TODAY! Or contact us for a complimentary consultation.
order@wedoethicalconsultancy.com
020 3332 0379



SIGN UP FOR OUR NEWSLETTER
© Copyright We Do Ethical